Rick Vanderpool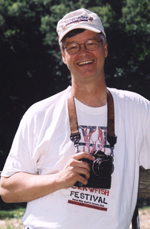 To paraphrase a quip attributed to James Barnes, "You can always tell a Texan, but you can't tell him much," I never imagined being able to tell Texans anything new and different about their state; its history, myths or geography.
But then, I'd seen the many books on Texas – shelf after shelf in libraries and bookstores – and came to believe that Texans certainly do enjoy the telling and do not mind in the least the retelling of almost anything about their state.
So it was that I awoke one morning convinced I just might be able to show Texans something new and different. Several friends and clients encouraged the idea, as did information from the crunchers of travel and tourism numbers at the Texas Department of Economic Development; information supporting the fact that Texans and non-Texans alike feel that the Lone Star State is worth at least a second look.
In 1994, I began a series of trips that would total over 20,500 miles and 54 days on the road – several roads, actually – to visit all 254 county seats in the state. And while I photographed anything else that caught my interest – from road kill and wildflowers, to grand views and tumbleweeds (all captured on roughly 400 rolls of film) – I was mostly looking for Texas; simply the word, as part of an old sign on the side of a barn, on a once bustling store's front, now closed and crumbling, or on a brand new sign welcoming visitors to a revitalized Main Street. Tiny or huge. Fashioned from neon and glass, metal, wood, stone or plastic. On t-shirts and banners, jackets or caps, leather belts, boots and saddles. On buckles, badges, patches, tattoos or you-name-it. Anywhere. Any material. And with character – as in worn, weathered, carved, etched, painted, stitched, tooled, scrawled, scratched or sculpted.
The word is everywhere. And not always visible at first glance around a town square. One Saturday morning I had to lie flat out on a downtown sidewalk to photograph it as part of the foundry plate on the base of an iron column in Henderson (Rusk County). It had faded nearly away on the side of an oil tank in Perryton. I often wonder how many I missed. Of course there were the countless times the word literally jumped out at me – like the dozen or so Texas Theater signs; the word literally up in lights in Hillsboro, Raymondville and Seguin, or once-upon-a-time in Sherman, Marfa and Burkburnett.
I visited the last four counties in mid-July of 1999, but I still look for Texas everywhere. Probably always will. So far, a unique collection of over 1,000 black and white and color photographs show how I pictured Texas – that and several pages of notes, stories and such, in my Coffee Ring Journal. More than one editor suggested the images might make a worthwhile book, validating my premise that there is a place where a thousand pictures are worth one word – Texas. Finally one editor at Republic of Texas Press decided that in addition to my pictures, I had indeed written a thing or two that I could tell a Texan. In January 2001, ROTP published a portion of my travel journal, Looking for Texas: Essays From The Coffee Ring Journal.