Jill Baimel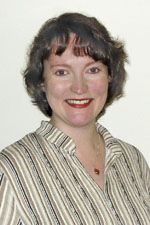 Born and raised in upstate New York, I moved to Pittsburgh, Pennsylvania with my family when I was 15 years old. While living there I finished high school and received a BA in Communications from Chatham College. I went on to study at Brooks Institute of Photography in Santa Barbara, California. In 1995 I received a second BA in Industrial Photography and Color Technology.
For the next 4 Ĺ years I worked as an Industrial/Research Photographer for Merck & Co., a Fortune 500 pharmaceutical company located in Rahway, New Jersey. I photographed some of everything while I was there. It provided some wonderful challenges and was a great learning experience.
Currently I reside in Connecticut with my husband, son and two cats where I have been working as a freelance photographer while devoting much of my time to State Art. I love not only the pictures that Iíve taken for State Art but the process as well. Iíve been able to travel to every corner of New York, New Jersey, Connecticut, and Rhode Island and really enjoyed it. Throughout all of my travels Iíve tried to capture the essence and diversity of each state while keeping a cohesive State Art look. The result is the body of work that you see here.